A detailed IoT building automation review and smart building solution improves student wellbeing and finds energy efficiencies to reduce operating expenses at Nepean Creative and Performing Arts High School.
Context
In March 2021, Nepean Creative and Performing Arts High School (NCPA) commenced a smart IoT building automation program. NCPA are part of the $500 million School Infrastructure NSW (SINSW) Cooler Classrooms initiative. Cooler Classrooms aims to help students achieve their potential and improve learning outcomes by delivering sustainable air conditioning, heating and fresh air ventilation systems to improve indoor comfort and air quality.
The program goals are to:
Provide students and staff with the best learning and working environments possible.
Operate sustainably in alignment with the NSW government's 2050 net zero commitment.
Minimise wasted expenditure on electricity to enable more investment in improving their education program.
NCPA needs to validate improvements in indoor environments and air quality as part of the initiative. The school's facilities team struggled to synthesise enough data to build a holistic picture of their performance. Traditional wired monitoring solutions became too expensive after the initial investment in infrastructure and technology. They needed an industry expert to find a solution that fit the budget. Someone to collect and deliver data analytics, make sense of their environments and prepare their classrooms for the future. Nube iO is that industry expert.

Method
Over six months, Nube iO investigated, designed and implemented a solution that allows NCPA to measure and improve the school's sustainability and air quality performance. The Nube iO solution tackled three key issues for NCPA:
Inadequate data sources
Disparate and misunderstood data sources
Underperforming environmental controls
Shortly after commencing, the solution was expanded to also provide data visualisations. The new scope included a review of how the school could incorporate sustainability into the learning curriculum for students. The Nube iO IoT solution could take advantage of the ability to measure and optimise the building automation system to engage students on sustainability initiatives.
Nube iO IoT sensors were installed in NCPA classrooms to monitor environmental conditions:
Additionally, sensors added noise levels and the energy and water being consumed to the data being collected. NCPA also specifically requested to utilise their 'inaccessible solar system'. Nube iO was able to integrate Modbus devices to wirelessly collect solar data.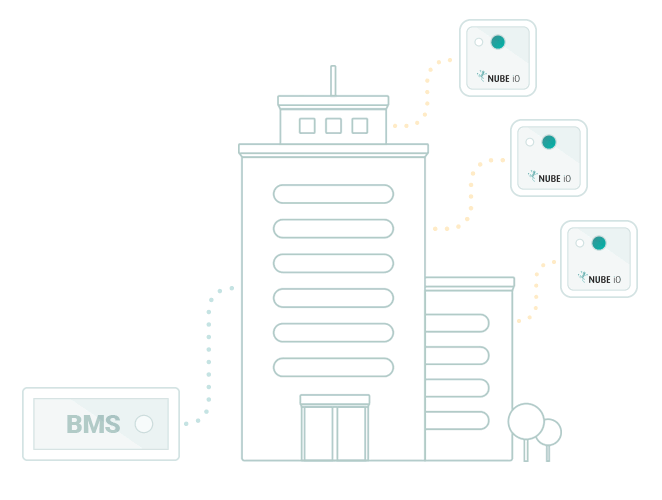 Solution
COVID-19 complications (electrical component shortages and extended lockdowns in Sydney) have created delays across the industry. Working around these delays, Nube iO's IoT building automation solution rapidly delivered results in under six months;
The additional air quality data enhanced smart-monitoring to provide fresh air before students learning capacity becomes affected.
Integrating NCPA solar data with energy and utility data sets provides the holistic performance of their energy performance.
NCPA environmental, energy and water data enables them to promote school sustainability and awareness of energy usage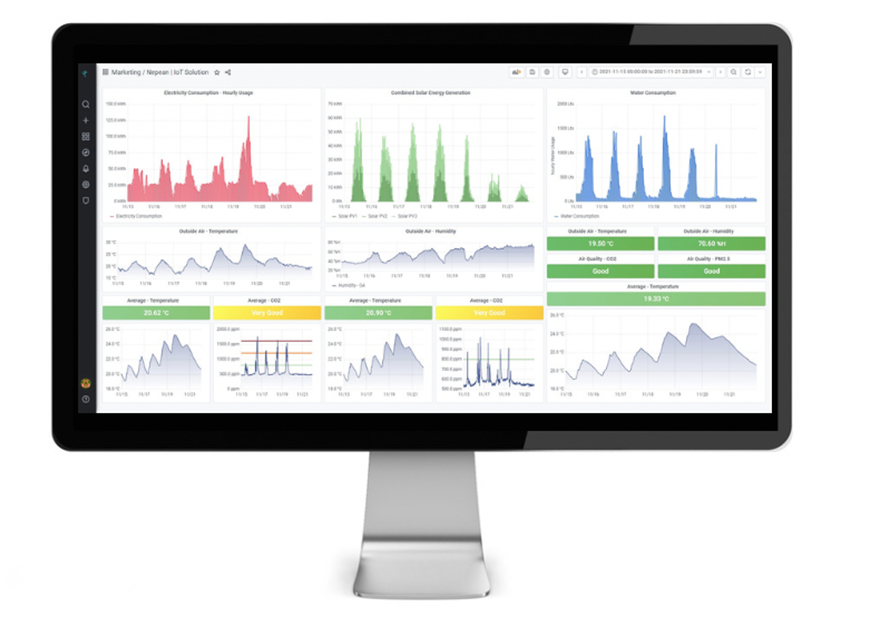 NCPA's newly connected data needs a simple, holistic view of sustainability performance, energy expenditure and environmental management. A Single Pain of Glass (SPoG) with all of the data in one location. SINSW is on a journey to build a SPoG for all schools in the program but recognised Nube iO's flexible, secure and accessible dashboard as an interim step.
The dashboard presents;
Energy consumption
Solar energy generation
Water consumption
Water tank level
Outside air temperature
Humidity
Red, amber and green (RAG) tags for outside air temperature.

Actionable Insights:
IoT building automation integrations with existing systems

IoT utility monitoring of electricity, water and waste monitoring for energy efficiency

Environmental compliance and smart building management of learning environments

Easy-to-use platform and logic design tool that significantly reduces engineering time and complexity
IoT sensors and smart integrations collect the building performance data needed to make informed decisions on facilities investments.  As a result, NCPA can now track their building performance and understand the return on their existing and future operational investments. With Nube iO as their IoT building automation and data partner, the school's facilities team has an operational performance benchmark. NCPA can now develop informed strategies for operating sustainably, removing unnecessary spending on electricity and creating the best learning and working environments.
For more information or to find out how Nube iO can help you create smart buildings get in touch at:
 +61 2 7906 8414
info@nube-io.com